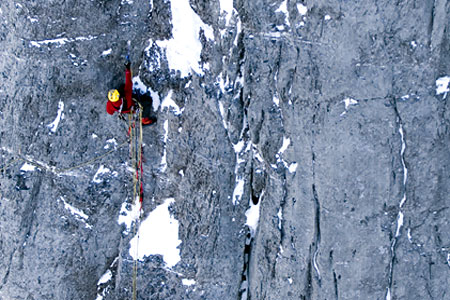 While the summit was reached without much difficulty in 1858 by a complex route on the west flank, the battle to climb the north face has captivated the interest of climbers and non-climbers alike. Before it was successfully climbed, most of the attempts on the face ended tragically and the Bernese authorities even banned climbing it and threatened to fine any party that should attempt it again. But the enthusiasm which animated the young talented climbers from Austria and Germany finally vanquished its reputation of unclimbability when a party of four climbers successfully reached the summit in 1938 by what is known as the "1938" or "Heckmair" route.
The climbers that attempted the north face could be easily watched through the telescopes from the Kleine Scheidegg, a pass between Grindelwald and Lauterbrunnen, connected by rail. The contrast between the comfort and civilization of the railway station and the agonies of the young men slowly dying a short yet uncrossable distance away led to intensive coverage by the international media.
After World War II, the north face was climbed twice in 1947, first by a party of two French guides, Louis Lachenal and Lionel Terray, then by a Swiss party consisting of H. Germann, with Hans and Karl Schlunegger.
First ascent
The Eiger from the east side (and Mönch behind) The first ascent was made by the western flank on August 11, 1858 by Charles Barrington with guides Christian Almer and Peter Bohren. They started at 3:00 a.m. from Wengen. Barrington describes the route much as it is followed today, staying close to the edge of the north face much of the way. They reached the summit at about noon, stayed for some 10 minutes and descended in about four hours. Barrington describes the reaching of the top, saying, "the two guides kindly gave me the place of first man up." Their ascent was confirmed by observation of a flag left on the summit. According to Harrer's The White Spider, Barrington was originally planning to make the first ascent of the Matterhorn, but his finances did not allow him to travel there as he was already staying in the Eiger region.